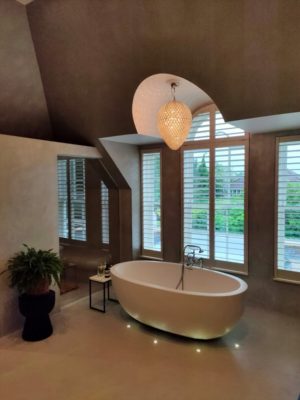 Microcement ClaudiCemento by SOBO. If you are looking for a contemporary style with exclusivity, unique charm, originality and exceptional results then ClaudiCemento microcement by SOBO will definitely meet your expectations.
THICKNESS ONLY 2-3 mm
EASY TO KEEP CLEAN (click here to download maintenance guide)
LONG SERVICE LIFE
VERSITILE
ANTI ALLERGIC
POSSIBILITY TO APPLY ON WALLS, CEILINGS, FLOORS, FURNITURE, INDOOR AND OUTDOOR
RICH PATTERN – DESIGNING AND COLOURING
SUITABLE FOR USE IN WET AREAS
ClaudiCemento by SOBO is a remarkable microcement which allows you to create unique textures on floors,  walls, ceilings and furniture, in a wide range of colours. It is possible to use it on various substrates, therefore is a powerful tool in the hands of an experienced  architect, interior designer and contractor. ClaudiCemento by SOBO may have a smooth surface or resemble raw concrete. And all of this with a thickness only 3 mm.
Microcement with a thickness of only 3 mm gives you an opportunity to create unconventional textures for your floorings and walls. The wealth of colours, plus the opportunity to choose between a smooth or a rough texture that looks like raw concrete, gives you the chance to create a unique style for your interior.
---
What is Microcement?
Micro  –  as it is a thin layer, 2-3 mm
Cement  – as it is a cement-based compound.
Microcement is an innovative, classy, decorative flooring and wall cladding for a new or refurbished base. Microcement is characterised by a thickness layer of only 2-3 mm, wide range of colours which can be mixed to create the exact colour you desire.  It's texture can be imprinted and can be used on concreate , wood, tiles , plasterboard , dry wall and furniture which makes it suitable any house, flat (including use in bathrooms, kitchens and swimming pool rooms ), lofts, studios, shops, wet rooms and offices. Microcement is perfect when you aim  to achieve an industrial flair in decorative indoor properties. Furthermore microcement is dust-proof as opposed to regular concrete.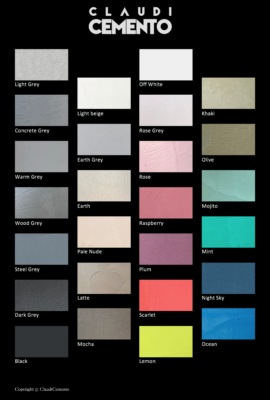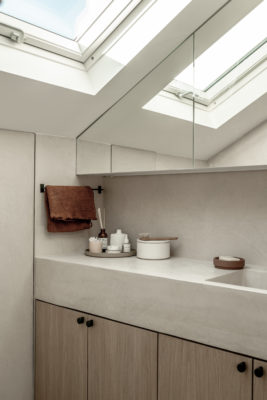 Microcement installation in a bathroom, walls and custom made basin by Sobo.
Design by Indie & Co.
---
CLICK HERE TO SEE MORE PHOTOS IN OUR GALLERY