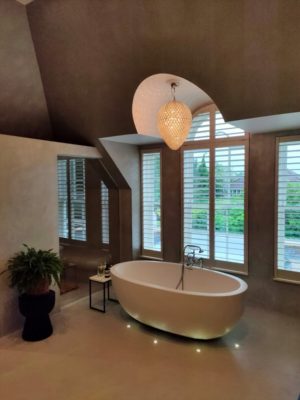 Microcement ClaudiCemento by SOBO. If you are looking for a contemporary style with exclusivity, unique charm, originality and exceptional results then ClaudiCemento microcement by SOBO will definitely meet your expectations.
THICKNESS ONLY 2-3 mm
EASY TO KEEP CLEAN (click here to download maintenance guide)
LONG SERVICE LIFE
WATERPROOF
VERSITILE
ANTI ALLERGIC
30% MORE OF THERMAL PERMEABILITY THAN ANY OTHER FLOORING MATERIAL
POSSIBILITY TO APPLY ON WALLS, CEILINGS, FLOORS, FURNITURE, INDOOR AND OUTDOOR
RICH PATTERN – DESIGNING AND COLOURING
SUITABLE FOR USE IN WET AREAS
LOW VOC – 0,012%
NO SOLVENT SEALERS ( LOW VOC AND NO ODOUR)
ClaudiCemento by SOBO is a remarkable microcement which allows you to create unique textures on floors,  walls, ceilings and furniture, in a wide range of colours. It is possible to use it on various substrates, therefore is a powerful tool in the hands of an experienced  architect, interior designer and contractor. ClaudiCemento by SOBO may have a smooth surface or resemble raw concrete. And all of this with a thickness only 3 mm.
At SOBO, we are always striving for innovation and materials that will shape the future. For the past few years, we have been using ClaudiCemento microcement, a reliable and durable traditional microcement that we believe is one of the best on the market. Recently ClaudiCemento introduced READY MIX microcement – the revolutionary and superior microcement coating. This new formula has unique and advanced features that are setting new industry standards:
• It offers additional flexibility.
• It provides exceptional strength and durability.
• It is waterproof even without a top seal, meaning there's no need for solvent-based sealers. This results in an odourless installation and low VOC emission.
•  It has a beautiful concrete-like finish that is highly aesthetic.
All of these qualities make ClaudiCemento READY MIX a game-changer in the microcement industry.
Thanks to its enhanced formula, ClaudiCemento Ready Mix can be applied to almost any surface, making it highly versatile and compatible with other ClaudiCemento products. Whether you need to install it on irregular substrates, tiles, surfaces with movement issues or cracks, or even on substrates with moisture problems like basements or outdoor areas, we at SOBO, with the ClaudiCemento system, have the expertise to fix it all and install it using the appropriate substrate preparation ClaudiCemento products.
With the enhanced revolutionary product comes a slightly higher price, but it is all worth it as its superior properties guarantee long-lasting durability and exceptional results.
Choose SOBO installers and ClaudiCemento Ready Mix and experience the future of microcement with its innovation, durability, and superior features.
Get ready to transform your spaces with style and convenience!
---
What is Microcement?
Micro  –  as it is a thin layer, 2-3 mm
Cement  – as it is a cement-based compound.
Microcement is an innovative, classy, decorative flooring and wall cladding for a new or refurbished base. Microcement is characterised by a thickness layer of only 2-3 mm, wide range of colours which can be mixed to create the exact colour you desire.  It's texture can be imprinted and can be used on concreate , wood, tiles , plasterboard , dry wall and furniture which makes it suitable any house, flat (including use in bathrooms, kitchens and swimming pool rooms ), lofts, studios, shops, wet rooms and offices. Microcement is perfect when you aim  to achieve an industrial flair in decorative indoor properties. Furthermore microcement is dust-proof as opposed to regular concrete.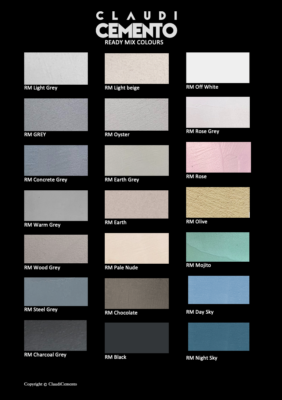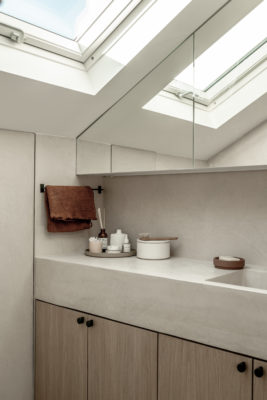 Microcement installation in a bathroom, walls and custom made basin by Sobo.
Design by Indie & Co.
---
CLICK HERE TO SEE MORE PHOTOS IN OUR GALLERY